Kalyna Astrinos, Kit Hoover, Mina Kimes, Jennifer Lahmers to Host Wonder Women of L.A. on June 20
Anchors from KCAL News, Access Hollywood, Fox 11 LA and ESPN to emcee breakfast event at Sofitel Hotel in Beverly Hills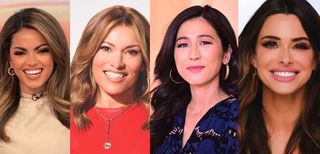 (Image credit: Future)
KCAL News anchor Kalyna Astrinos, Access Hollywood co-host Kit Hoover, ESPN anchor Mina Kimes and Fox 11 LA anchor Jennifer Lahmers have been confirmed as hosts for the Wonder Women of Los Angeles event on Tuesday, June 20, at the Sofitel Hotel Los Angeles in Beverly Hills.
Wonder Women of Los Angeles leads off this year's L.A. TV Week events, which also include the Advanced Advertising and Next TV summits and the 40 Under 40 awards, all at the Sofitel on June 20 and 21. More information is at https://www.latvweekevents.com/.
Fifteen female leaders in media and entertainment are being honored as Wonder Women of Los Angeles: Michele Barney, president of affiliate distribution, Warner Bros. Discovery; Valerie Bruce, general manager, BBC Studios Los Angeles Productions; Carrie Brzezinski-Hsu, VP, ESPN Creative Studio, ESPN; Kristen Cuffee-Brown, assistant VP of content acquisition, Cox Communications; Terri Hines, executive VP of communications, Fox Sports; Amina Hussein, head of sports talent, Amazon Prime Video; Holly Leff-Pressman, chief client engagement officer, Screen Engine/ASI; Sharon Levy, CEO, Endemol Shine North America; Ramsey Naito, president, Paramount Animation and Nickelodeon Animation, Paramount Global; Kirsten Polley, senior VP, operations, WWE; Lisa Richardson, executive VP, business and legal affairs, associate general counsel, Fox Corp.; Jennifer Rogers, executive VP, consumer and corporate marketing, TelevisaUnivision; Donna Thomas, senior VP, studios, Vubiquity; Robin Thomas, executive VP, content strategy and research, Hallmark Media, and Erin Underhill, president, Universal Television.
Also being honored at the gala breakfast are Giselle Fernandez, anchor, Spectrum News 1, Southern California, the 2023 Multichannel News Woman of Influence, and Holly Henderson, senior VP, distribution, Hallmark Media, The WICT Network: Southern California's Catalyst Award winner. More information is at https://www.mcnwonderwomen.com/LA.
A powerful lineup of honorees calls for a stellar roster of event hosts, and Future plc's Multichannel News, Broadcasting+Cable and Next TV are pleased to announce a dynamic foursome of hosts in Astrinos, Hoover, Kimes and Lahmer.
Kalyna Astrinos anchors KCAL's 4 AM newscast and serves as traffic anchor for KCAL News Mornings. She also hosts The Morning Wrap, which airs weekdays at 11:30 AM on the streaming channel CBS News Los Angeles. She returned home to Southern California after working at KTNV Las Vegas as the morning and mid-day anchor. There she earned two Regional Emmy Awards for best morning show and breaking news coverage of the civil unrest following the death of George Floyd. Her previous experience also includes serving as anchor/reporter in both San Diego and Bakersfield, California.
Kit Hoover is a host of two nationally syndicated programs: the Emmy-nominated nightly entertainment show Access Hollywood and the daily lifestyle entertainment show Access Daily with Mario & Kit. Securing her latest job at 40, the Atlanta-native mother of three has always been up for an adventure. Hoover made her television debut in 1995 as a cast member on the original season of MTV's Road Rules, which sparked her interest in pursuing a career in television. Soon after, she joined King World Production as entertainment reporter for American Journal. Hoover then went to Fox News in 1999 as a correspondent for Fox Broadcasting Co.'s news magazine, Fox Files. In 2003, she hosted ESPN2's Cold Pizza and served as a guest judge on ESPN's reality contest Dream Job. Additional hosting roles include TLC's lifestyle makeover series Real Simple, Real Life; ABC's Shaq Vs. and Lifetime's Celebrity Home Raiders. She hosted Animal Planet's live two-hour special, Give a Dog a Home, which aired in December 2019.
Mina Kimes is an NFL analyst, senior writer, podcast host and television contributor for ESPN. Since joining ESPN The Magazine in 2014, her profile has grown steadily across the company's multimedia platforms, spanning digital and print, television, radio and podcasting. In June 2020, Kimes was named an NFL analyst, joining ESPN's daily news and information show, NFL Live. She also offers football analysis on Get Up, SportsCenter, First Take and more, in addition to being a regular contributor to Around the Horn and Debatable, ESPN's daily digital show. Kimes has been at the forefront of ESPN's podcasting efforts. She hosts The Mina Kimes Show podcast and launched the ESPN Daily podcast in October 2019, where she remains a contributor in the NFL offseason. Previously, Kimes co-hosted ESPN Radio's The Morning Roast national weekend show with Domonique Foxworth and Clinton Yates, which the trio launched together in January 2017. She has also contributed to special ESPN live Twitter shows, including ESPN's digital NFL Draft coverage since 2018, and more recently, the SportsNation NFL Draft digital show in 2021. Prior to ESPN, Kimes was an investigative reporter for Bloomberg News (2013) and a business writer for Fortune Magazine (2007-13), where she penned pieces on topics from arms exports to tainted drugs.
Jennifer Lahmers co-anchors the 6-9 a.m. weekday hours of Good Day LA with Melvin Robert on FOX 11 LA. Lahmers has been a correspondent and weekend co-host at EXTRA since 2019. Prior to that, she spent five years at WNYW FOX 5 NY, where she served as a reporter for various station newscasts and co-host for Good Day Wake Up. Previously, Lahmers worked as a weekend anchor and weekday reporter at FOX61 in Hartford, Connecticut, while also penning a weekly humor column for The Hartford Courant and a monthly column for New Haven Living. She began her career in broadcasting as a weekend news anchor and reporter at WBBJ-TV in Jackson, Tennessee. Lahmers is a graduate of Ohio University's E.W. Scripps School of Journalism in Athens, Ohio.
For more information about Wonder Women of Los Angeles, please see https://www.mcnwonderwomen.com/LA.
The smarter way to stay on top of the multichannel video marketplace. Sign up below.
Kent has been a journalist, writer and editor at Multichannel News since 1994 and with Broadcasting+Cable since 2010. He is a good point of contact for anything editorial at the publications and for Nexttv.com. Before joining Multichannel News he had been a newspaper reporter with publications including The Washington Times, The Poughkeepsie (N.Y.) Journal and North County News.